National Application Center :: campus tours :: Campbellsville University key facts
Plan, explore, and apply to college using these great tools.
Campbellsville University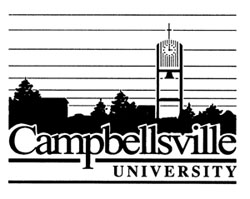 Campbellsville University
1 University Drive
Campbellsville, KY 42718
Official telephone: (270) 789-5000
Toll-free telephone: (800) 264-6014
Fax number: (270) 789-5071
Website:
www.campbellsville.edu
Screen last updated on: December 2019
QUICK FACTS
Year established:
1906
Type of school:
university, private (nonprofit)
Programs:
4-year undergraduate, graduate school
Religious affiliation:
yes
Campus enrollment:
12,529 students
Coeducational information:
coeducational institution, founded as coeducational institution
Location description:
in or near a small town (pop. 5,000-25,000)
Application fee:
$20, (waived if filed online)


CONTACT INFORMATION
Street address:
Campbellsville University
1 University Drive
Campbellsville, KY 42718
Mailing address:
Campbellsville University
1 University Drive
Campbellsville, KY 42718
Main telephone numbers:
270 789-5000
800 264-6014 (toll free)
270 789-5071 (fax)


CAMPUS LINKS
Main homepage:
www.campbellsville.edu
Graduate studies homepage:
https://
www.campbellsville.edu/
admissions/visit/
schedule-a-visit
Campus map:
https://www.google.com/
maps/place/
Campbellsville+University/
@37.3429502,-85.351347,17z/
data=!4m5!3m4!1s0x8868722f3bc3b777:0x7ee412fec524dae3!8m2!3d37.3429502!4d-85.349153


QUICK CODES
SAT number:
1097
ACT number:
1500
FAFSA number:
001959
FICE number:
1959


CAMPUS SUMMARY

Campbellsville, founded in 1906, is a church-affiliated university of the liberal arts and sciences. Its 95-acre campus is located in Campbellsville, 85 miles from both Louisville and Lexington.